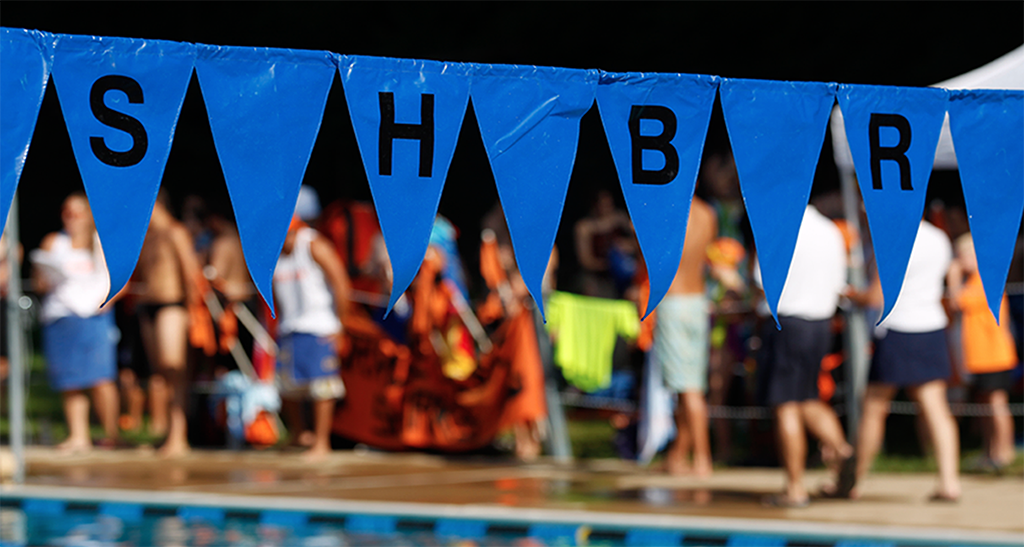 ABOUT THE BOARD
The Board of Directors at SHBR are voluntary positions. Equity members run and vote for three-year terms. The Board then elects an Executive Committee: President, Vice President, and Secretary. This is a working Board and requires some time and stamina from the members. Please contact us if you have interest in helping to run the club.
[tweets username="shbrstatus" nb="2" avatar="0" cache="3600" transition="0" delay="0" links="1"]
History of Sleepy Hollow Bath & Racquet
Fenbrook Bath and Racquet Club, named for the two men who designed, built, and owned it, opened on July 1, 1956. It was the brainchild of Dr. A. Budd Fenton and Mr. Douglas A. Brooks, friends who lived in the Malbrook neighborhood off Sleepy Hollow Road. After visiting a swim and tennis club in New Jersey where summer clubs were starting to spring up, the two men decided to use a piece of land owned by Doug Brooks to provide the Sleepy Hollow area with a summer club.
The land on which Fenbrook later stood was part of the Holmes Run Park development but could not be used for residences because it was located on a flood plain. After presenting their idea to the Holmes Run Park neighbors at an open meeting at Brooks' home, Brooks and Fenton took their idea to the Fairfax County Board of Supervisors to request a zoning change.
Despite the concern of the neighbors that such a facility would be a noise problem and would lower home values, the necessary zoning change was granted. Local architect Victor Spencer was hired to design the swim and tennis club to Brooks' and Fenton's specifications. Fenbrook Bath and Racquet Club had an "Olympic" (remember this was 1956!) size swimming pool as well as a small wading pool for young children. Additionally, there were two tennis courts, two shuffleboard courts, a gazebo with picnic tables, and a nine-hole pitch and putt golf course.
Cabanas were available for rental by the members, and there was a snack bar that provided food and drink. The snack bar was operated by Robert V. Dobson, a friend of Fenton and Brooks who had experience in this area since he was then managing an Alexandria bowling alley with a food facility. His wife, Gwendolyn Dobson, provided the new club with some notoriety by writing an article about it for the Alexandria Gazette, for which she was a feature writer prior to becoming Women's Editor of the Evening Star newspaper.
Fenbrook Bath and Racquet Club provided its members with many social activities including dinner dances with live bands for the adult members, as well as swim and dive meets for the children. The cabana decorating contest was a favorite with the members who went to great lengths to design clever and amusing spaces. One year Budd Fenton wrote a musical and directed the members-actors in the "The Fenbrook Follies". Rehearsals and a single performance were held under the stars.
Fenbrook Bath and Racquet Club was privately owned for four years and then sold to the community. It was then renamed Sleepy Hollow Bath and Racquet Club. Over the years, the land the golf course occupied was utilized to expand and enhance the tennis and swim programs. During the 1960s the upper pool and four more tennis courts were added. In 1974, three more tennis courts were added bringing the total to nine. Somewhere along the line (does anyone know when?) the parking lot was paved and the present gazebo was built in the mid 1980s.
Since Sleepy Hollow Bath and Racquet has passed the 50-year mark, significant renovations to facilities have been taking place. The club survived the great flood of September 2008 and a second great flood of September 2011, both of which left the club under water and caused considerable damage. In addition to repairs from flood damage, renovations during the years 2008 through 2012 have included full renovations of the main entrance building, bathrooms, showers, and all sets of cabanas for the first time since they were initially constructed.
---
Editor's note: Kip Carroll, Budd Fenton's daughter, provided most of the above information. If anyone has additional knowledge of the Club's history or old photos, please share with any board member.