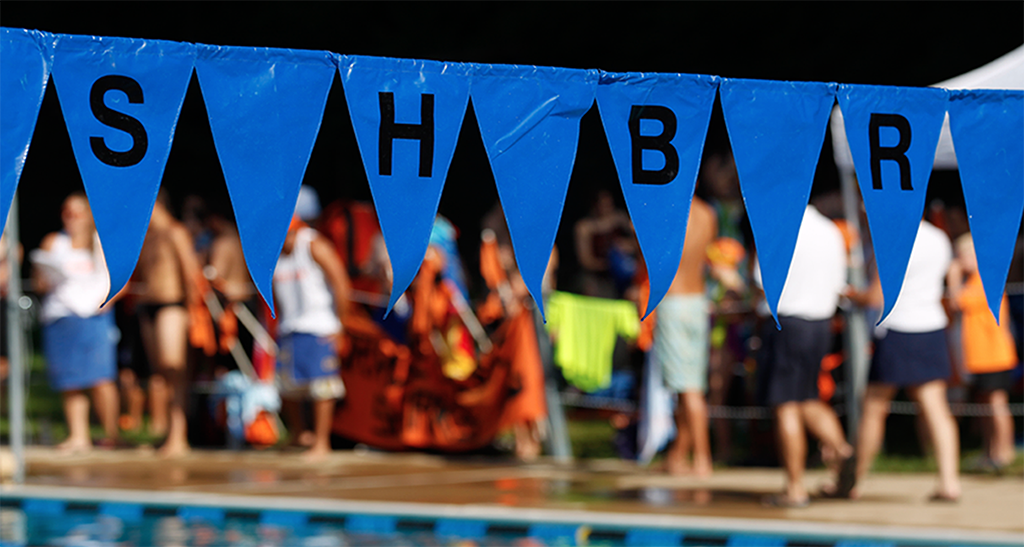 CASEY SCHULMAN FOUNDATION
SHBR actively supports the Casey Schulman Foundation by the Swim Team swim-a-thon and our Trivia Night Fundraiser. The Foundation awards college scholarships to Justice High School students who carry on the kindness, positivity and interest in the world around them as Casey did.
A Great Way to Learn to Swim
Sleepy Hollow Bath and Racquet is pleased to announce the Seal School, a coordinated group swim lessons program designed to provide a continuum of swimming instruction ranging from basic water exploration to stroke readiness skills. Alternatively, you may wish to have private lessons.
Seal School includes three levels of instruction:
Level 1 (Water Exploration) – For the youngest swimmers (typically 3 years and up). This level is for children who are new to the water, and/or may be apprehensive about water. Swimmers will explore the water by blowing bubbles, splashing, floating with assistance, and learning to safely enter and exit the pool. The goal of Level 1 is for swimmers to begin to develop comfort and confidence in the water.
Level 2 (Primary Skills) – For swimmers (typically 3-5 years old) who are willing to put their face in the water, and are eager to kick and move about with some independence. These swimmers will learn how to fully submerge in the water, back float, glide through the water, kick with a kickboard, breathe with bobs, and more. The goal of Level 2 is for swimmers to learn the basic skills and confidence needed to begin developing the basics of freestyle and backstroke.
Level 3 (Stroke Readiness) – For swimmers (typically 5-8 years old) who demonstrate the ability to swim 20 feet unassisted with rhythmic kicking and quick breaths. These swimmers will begin deep-water adaptation, treading water, proper body position, coordinated front crawl, and elementary backstroke. The goal of Level 3 is for children to swim a half a length to a full length of the competitive pool (25 meters) safely and unassisted. Swimmers who demonstrate competence in this level in the first session, may be referred to either the developmental or competition swim team.
Each level of instruction builds off the previous level. Instruction is in groups but also highly individualized. Swimmers can move through the levels flexibly depending on their comfort-level, motivation, and mastery of skills. The ultimate goal of the SHBR lesson program is to provide young swimmers with the confidence, skills, and desire to participate on the SHBR developmental or competition swim and dive team.
Session Dates
Seal School swim lessons will be provided during seven 1-week sessions. Lessons are 45 minutes long and are held on Monday through Thursday from 10:15 – 11:00. There will be no lessons on Fridays, unless a make up day is needed due to inclement weather or unexpected pool closure.
The 2023 sessions are:
Week 1: June 19-22
Week 2: June 26-29
Week 3: July 3, 5-7
Week 4: July 10-13
Week 5: July 17-20
Week 6: July 24-27
Fees
Each 1-week session of Seal School is $80 per swimmer. You may choose to register for any one or more sessions.
Registration
Login to eSoft, follow the links to "Sign Up for a Camp/Class" and find Seal School on the next page.
Notes
There are a maximum of 24 slots available per each 1-week session.  Slots fill up quickly, so please register soon!
Payment in full is due at the time of registration.  Registration is not complete until payment is received.
Parent Responsibilities
Seal School is not a drop off program. Parents are REQUIRED to be at the pool and available during the entire 45 minute lesson.
Questions or Comments?
Contact sealschool@shbr.org