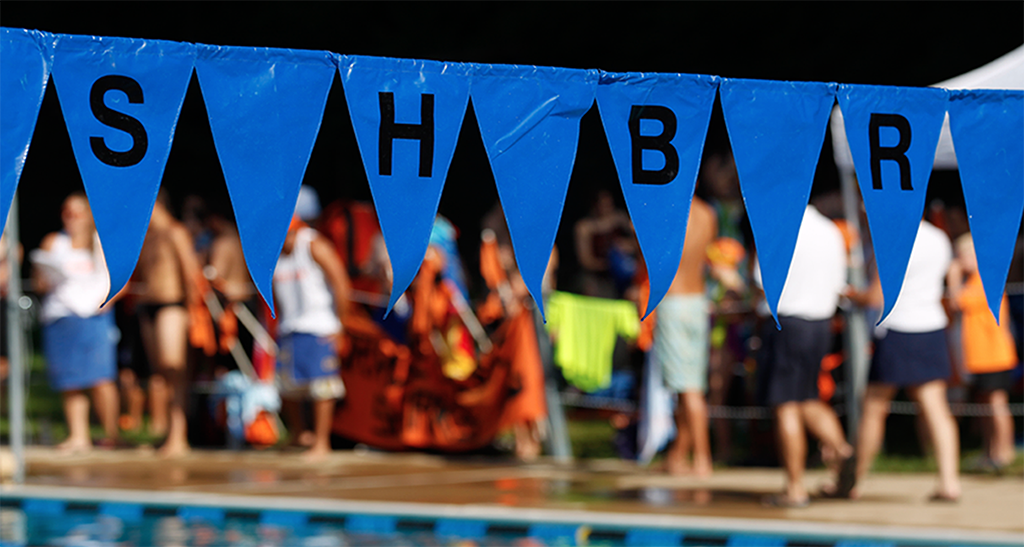 JOIN A TEAM!
For the kids we have tennis, swim, and dive teams! Try one or try them all for the same price.
Adults can play on one of our adult league tennis teams.  You may be asked to volunteer but there are no mandatory volunteer hours. While we LOVE our volunteers, we don't assign them.
The SHBR developmental swim program, also called the Seal Pups, is part of the SHBR swim team. This is a non-competitive group that focuses on stroke technique and learning how to practice as a team. Seals Pups are, typically between 5 and 8 years old. Families should complete the swim team online registration prior to evaluations.
SHBR coaches and older swimmers teach these youngest swimmers legal swim strokes starting with freestyle and backstroke.
When is a swimmer ready for Seal Pups?
Coaches evaluate all new swimmers for readiness prior to joining either the Competition Team or the Seal Pups team. For safety purposes, Seal Pups must be able to swim at least 15 meters of the length of the SHBR upper pool without assistance or stopping, and swim safely to the side to exit the pool. The swimmer is also expected to have a minimum stroke proficiency. This includes swimming with the face in the water, the ability to remain horizontal on the water, and to swim continuously with arms recovering over top of the water for both freestyle and backstroke.
Seal Pups or 8 and Under Competition Team swimmer?
Following is a general comparison of the Developmental vs. Competition Teams. It should be noted that coaches challenge swimmers based on their individual capabilities.
DEVELOPMENTAL TEAM
SEAL PUPS
8 & UNDER, COMPETITION TEAM
Eligibility
Evaluated during:
first week of practice
Automatic for returning swimmers or by coach's recommendation during evaluation
Practices
6/19 – 7/14: Morning practices 10:30 – 11:00AM
5/30 – 6/14: Afternoon practices 4:30 – 5:15PM
6/19 – 7/14: Morning practices 10:00 – 10:45AM
Practice Length
30 minutes
45 minutes
Practice Distances
25 M swims with breaks
25 M swims and some longer distances with fewer breaks
Strokes
Developing Freestyle and Backstroke; practicing diving and other skills
Proficient in Freestyle, Backstroke; may be developing Breaststroke, Butterfly
Weekly Swim Meets
No
Yes – Saturday "A" meets and Monday night "B developmental" meets
Final Season Event
Intra Squad Time Trial
B meet relay carnival or Divisional Championship meet
How are swimmers evaluated?
Summer Evaluation Days:  Please see schedule above.
Swimmers should attend two practices for evaluation. We recommend attending Tuesday -Wednesday, allowing Thursday and Friday as makeup days if needed. This provides each child an opportunity to adapt to the environment, the water temperatures, and the coaches.  In a fun, friendly environment, a coach will assess the swimmer's capability to swim the length of the pool unaided, and determine the swimmer's individual skill level. After evaluation, the coaching staff will recommend the appropriate environment for your swimmer.
When do Seal Pups Practice?
After evaluation, Seal Pups practice in the mornings from the end of June to mid-July. Practices are held Monday through Friday in the upper pool from 10:30 – 11:00 AM. The Developmental Team does not practice on June afternoons.
Is there an age requirement for Seal Pups?
Most Seal Pups are between the ages of 5 and 8.
Are coaches in the water during practice?
Yes. There is usually one coach or helper per lane. They may get out of the pool to provide instruction, get equipment or demonstrate a skill.
Are Seal Pups members of the Swim Team?
Yes, they practice beginning at the end of June, can participate in potluck dinners, the end of season picnic and other socials.
Do Seal Pups need team suits?
A team suit is not required. Some swimmers like to have them, but plenty wear other swimsuits. Caps and goggles are strongly encouraged since swimmers are expected to swim with their face in the water as they develop their strokes.
Can Seal Pups participate in swim meets? Do they have to
Seal Pups have their own mini-meet as the culmination of their season. It is a very special meet with timers, awards, but no disqualifications. Sometimes there is confusion regarding Monday night "B" meets. These are traditionally called "Developmental B Meets" in the NVSL. However, these are for the Competition Team. Seal Pups focus on their intra-squad mini-meet that will be held during practice time in late July.
When are Seal Pups ready for the Competition Team
A primary goal of the Seal Pups Developmental Team is to prepare swimmers for the Competition Team. If swimmers are ready during the current season, coaches may recommend the swimmer sign up for a Monday night "B" meet. If swimmers qualify and then participate in two "B" meets in a season, they have automatically become a member of the Competition Team.
What are the Seal Pup parent volunteer requirements?
Participation awards, fun days, and other team supplies used by all swimmers, are funded by swim team fundraisers. Developmental Team parents are expected to volunteer at one home Monday night "B" meet and the Divisional Championship meet when hosted by SHBR.