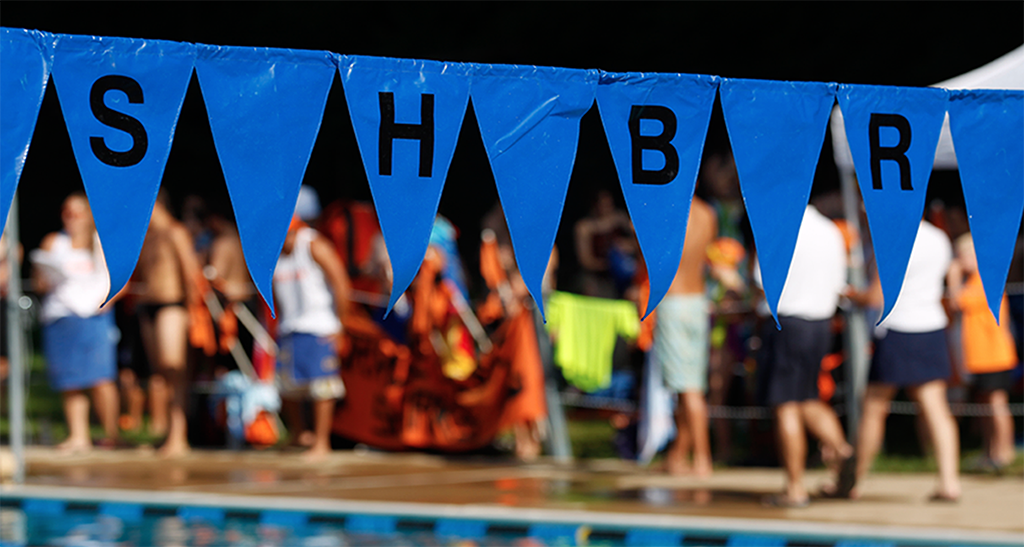 JOIN A TEAM!
Just a reminder that there is no additional cost to join any team at SHBR! You may be asked to volunteer but there are no mandatory volunteer hours, either. While we LOVE our volunteers, we don't assign them.
Diving is a sport that nearly everyone can try but fewer master. The primary goal of the SHBR Dive Team is to nurture kids who want to try diving for fun as well as those who want to compete at the highest levels — because sometimes a diver in the first group later joins the second group.
As such, we rely on the coaches, staff, team members, and their families to keep SHBR Dive a fun, positive, learning environment for all levels and ages. Unlike many team sports, it's often the novices that get the most cheering! We hope to foster this supportive attitude throughout our practices, meets, and other activities.
SHBR Dive Handbook
The 2022 SHBR Dive Handbook has been updated for 2022 (less COVIDy). This is a good reference if you have questions about how the dive program works or how you can get involved.
Clinics
We literally cannot run this program without your help. Did you know that it (ordinarily) takes eight to eleven officials to effectively run a dive meet? Each team provides half. In order for the program to continue, we extend a hearty invitation to new volunteers to provide the needed support now and in the years to come.
Adult family members are invited to free-of-cost NVSL clinics so you can learn how to help out with a meet. We need Meet Workers (collect and add scores, announce dives), Judges (award scores to dives), and Referees (experienced judges who determine if a dive was performed correctly and help with dive changes).
There were dive clinics in 2022 for the following:
Team Reps
Meet Workers
Judges
Referees
Coaches
Contact the Dive Representative (diving@shbr.org) if you have any questions.
Practice Schedule
Below was the 2022 Practice Schedule for SHBR Dive. Registrations are now closed but will re-open in 2023 on our new Swimtopia site (shbrdive.swimtopia.com) to complete the registration form and waiver, required before attending practice.
Between Memorial Day and last day of FCPS:
Monday – Thusday
3:00 PM – 5:00 PM : all divers
Friday
6:00 PM – 8:00 PM : all divers for Fun Day Friday
Saturday
2:00 PM – 4:00 PM : all divers
The regular summer practice schedule:
June 13 (once FCPS is out) – July 20 (last A Meet)*:
Monday
11:00 AM – 1:00 PM : all divers

4:00 PM – 6:00 PM : 13 and older
Tuesday
11:00 AM – 1:00 PM : all divers

3:00 PM – 5:00 PM : 13 and older
Wednesday
11:00 AM – 1:00 PM : all divers

4:00 PM – 6:00 PM : 13 and older
Thursday
11:00 AM – 1:00 PM : all divers

3:00 PM – 5:00 PM : 13 and older
Friday
11:00 AM – 1:00 PM : all divers for Fun Day Friday

6:00 PM – 8:00 PM : camp kids
Saturday
2:00 PM – 4:00 PM : all divers
* Afternoon practices may be affected by Swim and Dive Meets.
Meet Schedule
Below is the SHBR 2022 Meet Schedule for Division V. Just like the summer weather in Northern Virginia, this is subject to change. Also, we are working on adding 1 or 2 more B Meets this season.
Jun 21, 6 – 8pm, Dive Meet v Stratford
at SHBR
June 23, B Meet with SHRA
at SHBR
Jun 28, 6 – 8pm, Dive Meet v Lakeview
at Lakeview Swim Club
Jul 5, 6 – 8pm, Dive Meet v Mantua
at Mantua Hills Swim Club
June 7, B Meet with Carindal Hills
at SHBR
Jul 12, 6 – 8pm, Dive Meet v Ravensworth
at SHBR
Jul 19, 6 – 8pm, Dive Meet v Parliament
at Parliament Swim Club
Jul 24, 9am – 12pm, NVSL Dive Divisionals
at Lakeview Swim Club
Video from a 2022 Meet:
Coach's Message
Another season is approaching, Seals!
I am so excited to be at SHBR this summer and make this season the best one yet! I may be a familiar face to some of you since I dove at SHBR for 10 years. For all of those I haven't met yet, I'm looking forward to the new faces! For the past 4 years, I have been the head coach of the Annandale Swim and Tennis Dive Team. Before that, I was an assistant coach for SHBR for 3 years, as well as 4 years of high school dive experience. I'm excited to come back home and bring all the things I've learned from diving to not only our divers but our parents as well!
Divers,
This season we are going to have so much fun! But we must remember that good fun and safety go hand in hand. Learning new dives is always our goal, but we aren't going to put ourselves or others at risk in pursuit of that. We will work hard and set new goals while achieving great practice and meet environments. We will respect each other and our coaches and parents while on deck and at other pools. New divers, we will learn some new stuff at an individual pace and work towards achieving as much as you want to learn. For those who haven't been part of a team, I can't wait for you to experience the support from teammates who are learning new dives as well.
Parents,
We will work together to help our children become the best divers they can be! My goal is a safe, fun practice environment where we can help each other learn and grow. We will work together to make goals and try to reach them by the end of the season. For all those new to the sport, I hope that you ask lots of questions and feel free to contact me outside of practice time with any questions or concerns you might have about anything dive. Working together is essential, and we need parents to volunteer in order to support our kids and help our team function as a whole.
I can't wait to see you all at the beginning of the season!
Coach Alex