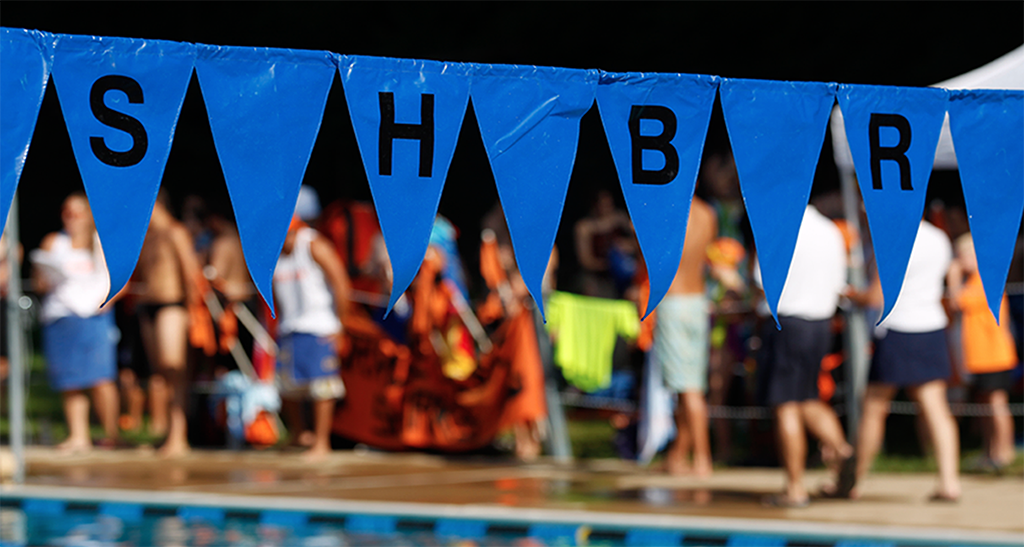 CASEY SCHULMAN FOUNDATION
SHBR actively supports the Casey Schulman Foundation by the Swim Team swim-a-thon and our Trivia Night Fundraiser. The Foundation awards college scholarships to Justice High School students who carry on the kindness, positivity and interest in the world around them as Casey did.
Do you think the only organized water activity SHBR offers is swim team?  Guess again!  There are plenty of ways to enjoy the pool for some exercise, learning, and fun.
Swim Team
The SHBR Seals Swim Team welcomes all boys and girls age 18 and under who are interested in giving competitive swimming a try.  In a short but intense eight week season, swimmers have the opportunity to develop swimming skills, be part of a fun, multi-age team, learn good sportsmanship, make new friends, and have a great time.  Swimmers are evaluated before joining the SHBR Swim Team to identify the most appropriate environment for each swimmer. We offer a competition team and a developmental team for different experience levels. MORE…
Seal School Group Swim Lessons
Seal School includes five one-week sessions of group swim lessons at three developmentally-appropriate levels.  The focus of Seal School will be on swim instruction and water safety, with children in groups of three or four per instructor. MORE…
Fitness Swimming
The upper pool includes lanes reserved for lap swimmers ages 13 and over.  Given the popularity of the lap lanes, members may need to share a lane with another swimmer.  Lap lanes are generally open when the pool is open, however, the number and availability of lanes varies depending on scheduled swim and dive team practices and events. MORE…
Private Swim Lessons
Individual swim lessons are available from many of the SHBR lifeguards or senior members of the SHBR swim team.  For more information about schedules and rates, please login to eSoft and go to Scehduling and then Appointments. More information about scheduling can be found here. Click on the next link for additional information about private lessons. MORE…
Masters Swimming
Alex Simonson is Head Swim Coach for the 2022 swim team season and she, along with her sister Lauren, will be running the early morning masters program this season. The Masters program at SHBR is designed for swimmers of all abilities and ages over 18 years old. We welcome any participant and can provide as little to as much feedback on stroke technique or practice difficulty as wanted. 
Members should login to eSoft to sign up for Masters Swimming (click on Camps and Classes, follow down to Masters Swimming). Non-members can complete this form to indicate interest.
The master's program will end at the end of swim season. The program will run every Monday, Wednesday, and Friday from 6:30 am to 7:30 am. Cost is $12 per session for members, $18 for non-members (with the addition of a required guest pass). Some package discounts will be provided. 
If you have any questions about the Masters program this summer please send an email to shbr.swim.coach@gmail.com.